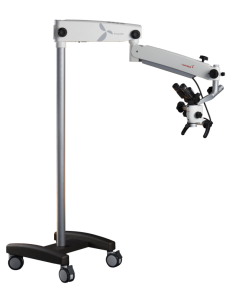 The LABOMED Prima DNT is a surgical and diagnostic microscope, which is adaptable for different surgical needs without compromise to performance.  This surgical microscope provides extremely high optical image quality, good depth of focus and wide field of view for precise surgery. Illumination control, inbuilt tilt, adjustment of the observation head help to reduce the surgeon's work fatigue and allow comfortable use over long period.
Salient features of this Microscope are:
The 0-210° ergo tilting observation head can easily be positioned with the help of suspension arm.
An advanced 5-step magnification changer allows an optimal magnification for a particular surgery from five different magnifications.
Cold light illumination with a high intensity 50W LED lamp is provided using a fiber optic guide for proper illumination. The illumination is further adjustable up to its most suitable brightness using intensity control knob suitably located at the suspension arm, and is easily approachable to the surgeon.
When the microscope is not in use, the suspension arm can be folded over the main body to store it compactly.
Rigid H-form base with castor wheels provides greater stability as well as mobility to the instrument.
This microscope is manufactured according to the safety norms as per CE regulation and FDA approved.